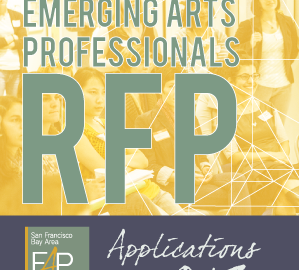 What can our network do to make the arts sector healthier, and better reflect our values of empowerment, relevance, and diversity?
EAP invites you, as a member of the network, to propose and help execute a project that helps to fulfill our mission. An online meet-up, a skill-share session, a social media campaign, or big event. The arts world is your oyster!
The programs of EAP have always been built by the very people they are serving. This opportunity is a natural extension of the principle. Who better to create new programs for our network than you, the members of our network?
We're accepting proposals through October 31 for new projects to begin in 2014. If your project is selected, we'll provide administrative support and even a small budget to work with! No idea is too big or too small, though we'll of course want some specifics as well as explanation of why you think it fits our mission.
Check out the complete proposal guidelines, and start talking to your colleagues about the projects you've always wanted to see from your EAP network. The Leadership Team is looking forward to reading your proposals!
Questions? Contact EAP Director Adam Fong, adam@emergingsf.org
https://www.emergingsf.org/wp-content/uploads/2013/10/EAP_RFP_banner1.png
373
299
Admin
http://www.emergingsf.org/wp-content/uploads/2019/10/EAP_Logo_2011_blue-pink-space-300x158.png
Admin
2013-10-03 18:26:04
2014-05-16 06:12:00
RFP CALL – EAP presents: (your idea here)