By Mariko Chang, EAP Fellow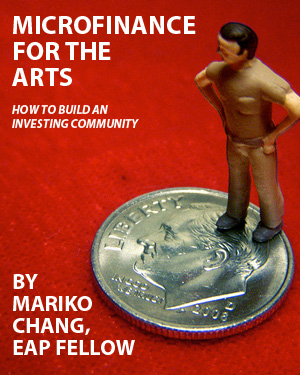 As artists and arts and culture workers, we are fueled by passion, ideas, and the creative process. And although we hate to admit it, we need money, too.
With that in mind, in March I attended an evening seminar at Pro Arts in Oakland to hear John Spokes, Director of Development at United States Artists, talk about microfinance opportunities through a program called USA Projects.
Microfinance with USA Projects
In 2010, United States Artists Projects (USA Projects) was formed in response to recent budget cuts and a diminishing number of individual grants available to artists. Similar to Kickstarter, the organization gives large groups of people the ability to donate small amounts of money to specific projects. For instance, Michel Varisco raised more than $11,500 over several weeks to fund a photography book in which she proposed to document the beauty and destruction of the wetlands and Gulf of Mexico.
This process, known as microfinance or microphilanthropy, uses an online platform to funnel private donations directly to artists. With the help of technology, sharing information and funding are convenient and easy, which helps to engage new donors.
Benefits for artists
Professional services: USA Projects provides one-on-one advice to help with your pitch and video. Dedicated staff members also provide consultation regarding project deadlines, goal setting, and social networking. (Note: Grants, fellowships, residencies, or other recognition are required prior to participating in USA Projects.)
Matching funds: USA Projects offers access to a pool of funding to leverage additional support. A development team assists artists by matching them with interested donors or agencies that help to build one's personal donor base.
Fundraising share: Artists receive 81 percent of the money raised from the campaign (the remaining 19 percent goes to USA Projects). Although this may seem like a lot, USA Projects boasts a 75 percent success rate with an average of 114 percent raised over goal set.
Benefits for donors
Tax deduction: As a nonprofit with IRS 501(c)(3) tax exemption status, all donations to artists through USA Projects are tax deductible.
Social network: USA Projects offers social networking features as part of its website, which allows donors as well as other artists to track the progress of both an individual artist or project.
My two cents on microfinance
Early this year, the blog Read Write Web published an article stating that Kickstarter was on track to outfund the National Endowment for the Arts. For me, this proved the power of collective action, and I wondered how this model could transform the relationships between people and museums.
Today, museums struggle to address the gap between established donors and younger generations. Based on the concept of microfinance, one solution might be to give younger audiences an option that fits their lifestyle, budget, and comfort level. By providing interesting opportunities to give without it being a huge commitment, museums can help familiarize younger audiences with the idea and act of philanthropy in hopes of building life-long community members.
Have you tried microfinance, either as a donor or to fund a project? Tell us about it in the comments.
Image: Adapted from a photo by JD Hancock
https://www.emergingsf.org/wp-content/uploads/2012/05/Microfinance.jpg
375
300
Admin
http://www.emergingsf.org/wp-content/uploads/2019/10/EAP_Logo_2011_blue-pink-space-300x158.png
Admin
2012-05-30 02:10:23
2014-05-16 16:34:07
Microfinance for the Arts: How to Build an Investing Community