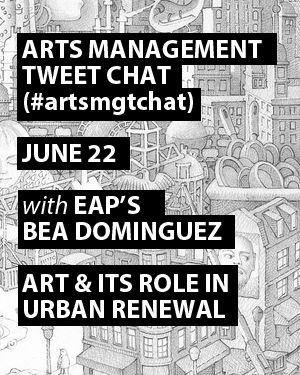 By Michael DeLong, Managing Editor
The role artists play in creating vibrant cities seems to be the conversation du jour, inspiring lively events, provocative blog posts, and no small flurry of foundation interest. (And, perhaps most controversially for those word nerds among us, an as-yet-not-fully-recognized closed compound neologism in placemaking.)
What better time to hop on a tweet chat to discuss this very issue (that of artists as placemakers, not that of the adoption of the term) with fellow workers in the arts and culture sector?
Since April 2012, Arts Management Chat (#artsmgtchat) has been convening a community of knowledgeable, opinionated arts managers around topics such as engaging boards, emerging leaders, and social media for arts organizations. The chats happen twice a month on Fridays at 11:00 a.m. Pacific time.
On Friday, June 22, our own communications director Bea Dominguez will be hosting the tweet chat, focusing on the topic of Art and its Role in Urban Renewal. This promises to be an interesting conversation: a great way to learn more about the topic and add your own voice.
Here are just a few of the questions that Bea will be asking the tweeps:
Are arts the precursors of vibrant cities or are they the outcome?
Does your city value creative labor? In what ways can it value it more?
What does it mean to you to transform a neighborhood?
See all of the questions and Bea's inspiration for the topic on the Arts Management Chat blog.

Here's how to participate:
Follow the hashtag #artsmgtchat from 11:00 a.m. – noon Pacific time on Friday, June 22
Join the TweetChat room directly for easy participation
Spread the word to your own networks
Ask questions and share resources ahead of the chat using the hashtag or by tweeting to @trichetriche
Never joined a tweet chat before? Don't miss this how-to in TechSoup's Nonprofit Social Media 101 wiki, and watch the video below.
Image: Adapted from a photo by Erik Berndt
https://www.emergingsf.org/wp-content/uploads/2012/06/bea-tweet-chat1.jpg
375
300
Admin
http://www.emergingsf.org/wp-content/uploads/2019/10/EAP_Logo_2011_blue-pink-space-300x158.png
Admin
2012-06-17 05:23:29
2012-06-17 05:23:29
Arts Management Tweet Chat on June 22 with Bea Dominguez