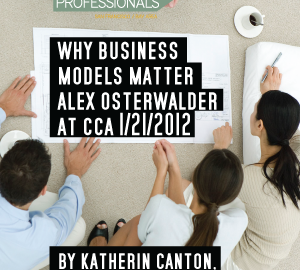 By Katherin Canton, EAP Fellow
Leaving the stone age of business strategy
Seated in Timken Hall at California College of the Arts, Alex Osterwalder started passing out sticky notes because no event is really a design event until you have those little colorful pads.
Alex was at CCA to explain and show next-level tools to support the growth of smart business planning, namely the "Business Model Canvas." Although this tool is simply a visual format used to discuss a business model, it helps in breaking down the key components of building a coherent plan. Alex didn't go into those actual components, focusing instead on the reasons behind and productive uses of the Canvas.
How we got hereThe Canvas is revolutionary and practical, simply because it levels the playing field when it comes to business development. Whether you have started and created a major corporation,  are in the middle of redeveloping your business model, or even if you are thinking about starting a business, this tool breaks down the key elements and relationships to consider before committing money and time.
Osterwalder developed this tool in order to spark more complex and deeper dialogues about business models. If it's your first time looking at the relationship between your customer segments and your key partners, here is the chance to start asking questions that will affect your future business.
The idea here is that we shouldn't be using outdated business plans when we have come so far in even the types of businesses and relationships we have created.
In the Everyday
I have no business background, but understanding this canvas wasn't as intimidating as it is to read a whole novel on a "successful business plan." It has also pushed me to think about how a plan can't be successful without having a solid grounding in the day to day of a functioning business.
This is where my two main takeaways from this lecture come into being:
Ideas should be mobile
Whether using Post-it notes or an Ipad app, innovative business strategizing relies on putting all ideas out on the table and being able to mix and match potential plans. Another rule from Alex: never put more than one idea on a note. This defeats the adaptability of the single ideas.
Take it to the customer
No matter how much time or how many resources have gone into researching your audience or potential customer base, it never compares to going out and asking them if they would use your product or service. Even being rejected in person gives you insight into launching a potentially successful or useful business.
In the end both of these principles help you reflect on what you are going to embark on before you commit those precious dollars or hours.
Final Thoughts
By reinvigorating tools we use for strategy development or business development, we let go of the old ways of thinking and running businesses. New tools support more complex modeling and experimentation.
This is where the business model canvas comes into play. It takes speaking, reading, and reworking a business development strategy into a common language (a visible one), but also elevates the number or variables and relationships that we can communicate without having the jargon used in old business strategies.
Check out Alex's What Is a Business Model presentation on SlideRocket, and sound off in the comments. Are you using a business model, or thinking about one? What's your plan?
https://www.emergingsf.org/wp-content/uploads/2012/02/eap_businessplan.png
375
300
Admin
http://www.emergingsf.org/wp-content/uploads/2019/10/EAP_Logo_2011_blue-pink-space-300x158.png
Admin
2012-02-06 22:28:40
2014-05-16 16:55:35
Why Business Models Matter: Alex Osterwalder at CCA 1/21/2012