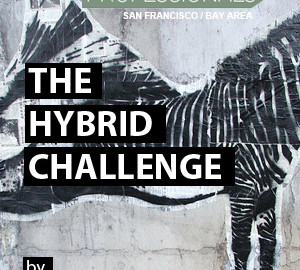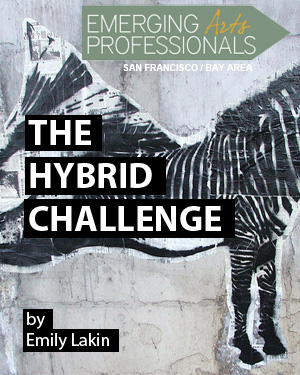 By Emily Lakin
Strength in variety
My colleague at Yerba Buena Center for the Arts (YBCA), Marc Bamuthi Joseph, was recently featured in United States Artists' online magazine discussing his role as a seeker and hybrid. It was perfect timing as I prepared to write this post about my experience with the NextGen Arts Leadership Initiative, a project of the Creative Capacity Fund, part of the Center for Cultural Innovation.
From my perspective, nonprofit employees work beyond what is narrowly defined by our job descriptions: we are nimble, multi-skilled professionals that do everything from setting up tables for an event to managing a grant-funded program. Bamuthi muses on that further, speaking to the challenges of fitting into discrete categories as a hybrid artist-curator-teacher (and many more hyphenates).
While it may be challenging externally – to the funder trying to slot your proposal into a program area, to the journalist trying to figure out where to list your show, to the hiring manager reviewing your resume – I propose that we are stronger candidates to become leaders if we have explored a diversity of experiences and taken advantage of the valuable learning and resources available outside our own specialties.
Crowdsourcing mentorship
With that in mind, in January 2011 I proposed a NextGen Grant for a project I must honestly admit I wasn't sure would be funded. NextGen's guidelines stated that the grant could be used for a workshop, conference, or mentor. For this project, I wanted to crowdsource a mentorship by meeting with professionals who are actively involved in some aspects of nonprofits, social practice, philanthropy, technology, arts and innovation, though not necessarily in the arts nonprofit sector.
Instead of a single mentor, I talked with multiple people in New York, Los Angeles, and the San Francisco Bay Area, offering them lunch as a token payment for their time. In a time when most organizations have cut conference and travel budgets, this grant helped me greatly expand my network to exchange ideas and learn new information through its financial and credentialed support. And, much like my proposal to NextGen for an independent mentorship program, this series of lunches inspired me to engage in further self-directed study.
Making it together
I've also become increasingly aware of my role in collaborations, attempting to make something together instead of focusing on pushing my goal as the end result. I found myself seeking out opportunities for partnerships outside YBCA that would benefit both parties. In December I worked with Airbnb, a vacation rental service operating on the collaborative consumption model, to offer a week of free admission for anyone registered with their site. It was a boost for members of their community to engage in cultural activities in their own cities, or who were visiting as part of their Airbnb stay. It gave YBCA the opportunity to engage a vibrant user group, and the credit we earned in the partnership offset some of the cost to host a visiting artist during her residency in April.
Just recently I've been working with the artist David Shrigley and Kala Art Institute to create a limited edition print in conjunction with Shrigley's YBCA show, Brain Activity, which runs through September.
Ideologically, these mentor conversations collapsed my perceived walls between sector silos to focus around the idea of "good" business – work that is sustainable, socially responsible, and which demonstrates an impact. I find myself ravenous to find studies or projects or companies that offer insight into the themes from this project: collaboration, philanthropy, social impact in nonprofit and for-profit spheres, and the relevance of the creative fields. As I feed myself information, I try to synthesize it into the work I'm currently doing or work I'd like to do in the future.
A call to be seekers and hybrids
As culture workers I think we would be doing ourselves a disservice if we ignore the trend towards the growing intersection of the public and private sector. We are primed to take advantage of all the resources out there to make ourselves and our organizations better and stronger.
I'd like to challenge my fellow emerging leaders to be seekers and hybrids as well. Build trust and integrity within your communities as you network far and wide and hopefully you will be inspired and strengthened to move forward. If you need help starting, below is a list of my areas of interest as well a few links and the list of people I've spoken to in the last year. I'd love to hear from the readers of EAP's Blog Salon about what or whose work sparks their interests, and how it might inform your work as an arts professional.
Areas of Interest
collaborative consumption
partnerships and collaborations
alternative/continued education
citizen funding
social practice
Some things to read
Online resources
Some interesting people
Adam Katz, Co-founder, Imprint Projects
Mara Sohn, Project Manager, Imprint Projects
Alan Ratliff, Experience Manager, IDEO
Amada Cruz, Program Director, USA Projects
Brett Cook, Artist
Chris Vroom, Co-founder and Executive Vice President, Artists and Institutions, Artspace; Founder and trustee, Artadia
Frances Philips, Creative Work Fund
Ian Padgham, Corporate Design, Twitter
Michael Karnjanaprakorn, CEO and Founder, Skillshare, Venture Advisor for the Collaborative Fund
Michael Ray, Editor, Zoetrope Magazine
Nick Hodges, Vice President of Philanthropic Services, San Francisco Foundation
Stephanie Pereira, Arts Programs Manager, Kickstarter
Sue Bell Yank, Arts Organizer, Writer, Assistant Director of Academic Programs at the Hammer Museum

About Emily Lakin
Emily has been involved in San Francisco arts and nonprofits for the past ten years, including holding positions at the 111 Minna Gallery and the Nonprofit Finance Fund. She currently works in Development at Yerba Buena Center for the Arts. Emily serves on the advisory board for Root Division, and has also volunteered at Intersection for the Arts and Southern Exposure. When not hands-deep in the arts in SF, you can find her @hazelbrown on Twitter, cooking up new recipes with a CSA from Eatwell Farm, and crashing startup offices throughout the city in search of skeeball machines. She earned B.A. in Anthropology from Smith College.
Image: Adapted from a photo by jaqian of artwork by Asbestos
https://www.emergingsf.org/wp-content/uploads/2012/07/hybrid1.jpg
375
300
Admin
http://www.emergingsf.org/wp-content/uploads/2019/10/EAP_Logo_2011_blue-pink-space-300x158.png
Admin
2012-07-06 02:30:16
2014-05-16 15:34:14
The Hybrid Challenge