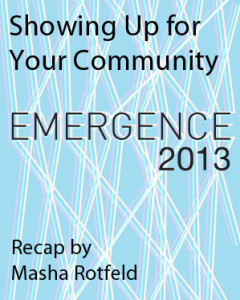 By Masha Rotfeld
At Emergence, Emerging Arts Professional's annual daylong convening on June 3, 2013, a daring and complicated group discussion facilitated by Arielle Julia Brown and Ernesto Sopprani centered on the participants' viewpoints regarding failures and successes in community engagement.
Brown, teaching theater artist at Destiny Arts Center and artistic director of The Love Balm Project, hailed the community engagement "shero" of our time, Kemba Shakur. City greening activist Shakur founded and directs the Oakland tree-planting project Urban Releaf. In late 2011, the Oakland Museum of California (OMCA) took a stance by spotlighting Shakur, along with five others, as a Modern Day Muir. This served Brown's point that more arts organizations ought to reach out across the community to honor women, especially those that have started community organizations.
I found myself brainstorming with a striking group of individuals: Quinn Associates's Jessica Johnson, recent John Hopkins graduate Glennis Markinson, OMCA's Lisa Silberstein, and EAP's Ernesto Sopprani. Peers were eager to sound off successes: ProArts and Youth Speaks, organizer of the National Youth Poetry Slam, as well as SOMArts, which got an instant in to a community.
While approximately ten small group discussions focused on the binary question of community engagement failure and success, the ensuing shared conversation evolved into a wider set of topics:
1. Working definitions of community vs. network
2. What it takes to get an "in" to a community
3. How to keep a network meaningful and vibrant, not unlike a personal relationship
As the small groups opened up to the room, Brown urged caution as she also invited participants to divulge what struck a chord with them. "Community engagement is one of the grant buzzwords. Glorified interactive audience surveys, and other questionable work."
Community vs. Network
Silberstein, a visitor engagement specialist at OMCA and brain behind In-The-Mix programming, shared: "Everyone else's community is your network" and urged others to "understand how they are related to you in the bigger network."
Some slogans that could be heard floating around the room as participants were grappling with the assignment were:  "One is giving, one is taking," "A network literally is multi-directional," "Engagement is outward facing," and "A network could help you expand your community."
The following gave me pause, "Before we used to just have our communities, but now we have all the others." Indeed, the law of attraction is still at work.
The ever-pertinent question of funding resurfaced when the quandary came up about having numbers over meaningful experiences in reporting back to granters. Through a topical example Silberstein incorporated "network" to discuss the difficulty of community engagement within a framework when a major funding partner restricts the use of a formerly flexible account.
How does one balance the desire for meaningful interactions while reaching a large numbers of people?
"A very minor qualitative questionnaire," suggested another participant, who thought that having a high response rate to a yes/no and one open-ended question would do the trick. Qualifying and quantifying audience participation really does become an opportunity to educate the funders. Facing the truth is not for everyone, but knowing what works, rather than what should, will get arts professionals out of dated reporting processes.
A Ticket Into a Community
The energy in the room reflected a consensus that the following rhetorical questions could serve as a fertile ground for not only opening up discussion but also catalyzing future considerations.
"What community are you in? What community are you engaging? Is engaging a synonym for organizing, getting grants, or just taking a photo with someone?"
In essence, the speaker exhorted the room think about what tactics one would be willing to use to get in.
A well-heard qualifying response was: "You need to show that you are passionate about being involved in our communities. Do not lose focus about why you started in the beginning." Be mindful of institutional power around the community you live in or the one you are going into.
A board member of the Zaccho Dance Theater sketched out some interesting subtleties: what are the peculiarities regarding getting "into" East Los Angeles versus San Francisco's Mission District, or an African-American entering Detroit, while never herself having been there prior.
Sopprani made an example of a community's engagement around queer performance, which he says involves curating work in their spaces, activating them. Make a community around whatever the problem may be and finding a solution.
Emphatically, regret was voiced and seconded about a kind of involvement that is here and gone, leaving the place at the heart of the project without lasting transformation.
For instance, everyone wants to fund a project in the Bayview, which while "local," deserves the same weight as international or global endeavors. Questions of sustainability and establishing expectations ought to be front and center.
Network Upkeep
Our third point, regarding hands-on networking, was divulged by the Zaccho board member. Calling it the "elephant in the room," she was speaking directly to the individuals gathered, prompting them to really connect to others at the Emergence 2013 event.
"The people in attendance, are they going to show up? If we don't take advantage of our new acquaintances, we will move further and further away from each other," she urged.
Sopprani echoed that to maintain such ecosystems, arts professionals must have one-on-one conversations.
It is really about the personal relationships. We care what we do to each other, but we must make an effort to stay in touch and connected.
He reminded the group to document knowledge on EAP's Hackpad, a source of resources and grants that has just opened to the network. Via Hackpad, EAPers can share contact info and what they do.
Community Engagement at Large
To quote Gore Vidal, "We are permanently the United States of Amnesia. We learn nothing because we remember nothing." We are in an era of perpetual forgetfulness, whether about new acquaintances or social and cultural phenomena at large. An art historical "moment" — a tremendous story — will pop into public consciousness and disappear immediately.
It is difficult to hold onto any one string, but we must find different strategies for paying attention and approaching situations with a desire for continuity. Such strategies include: getting permission for fair use of artwork or use of space, asking (theater) participants to bring their friends, and having daily conversation with people who share our interests.
Sustaining community engagement comes in after initiating contact in events such as Emergence 2013 by continuing to build those relationships intentionally. Such success can be attributed to the network of European Burning Man followers, who find ways to communicate year-round, such as with mixers in a "burning pub" in London. People have branched off into new communities to pursue emerging international projects, while opportunities to get to know each other tangibly increase interpersonal and inter-organizational support.
And, keep experimenting! You are more likely to bring successes to mutually beneficial processes if you are. Arts community members ought to try new things, for they are already doing something they are good at. The question is now, how does one push at that. A failure could be skewed into a success, but not before action is taken.
"Seeing how things are interconnected as well as what else is going up around makes you run better," observed Sopprani.
And one participant voiced the takeaway at the heart of the session: "If you show up for your community, they will know that you are authentic and will be there for you too."
Masha Rotfeld is a personal fitness trainer and holds a master's degree in art history from the University of California, Riverside.
https://www.emergingsf.org/wp-content/uploads/2013/07/community.jpg
373
299
Admin
http://www.emergingsf.org/wp-content/uploads/2019/10/EAP_Logo_2011_blue-pink-space-300x158.png
Admin
2013-07-10 11:25:47
2014-05-16 14:34:19
Showing Up for Your Community