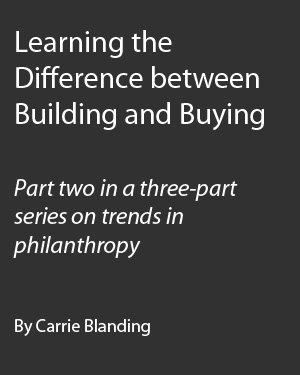 This is part two in a three-part series by Carrie Blanding on emerging trends in philanthropy.
If you haven't yet read George Overholser's seminal piece "Building Is Not Buying," you should stop everything and do it now. The essay is only ten pages long, but it packs a punch!
In the piece, Overholser encourages nonprofits and their funders to distinguish between growth capital and revenue-like funding, and to track this income separately in their budgets.
Once you get the basic definitions down, tracking capital growth and revenue-like funding differently is a very simple idea, but the implications for philanthropy are huge.
Growth capital ("building" money) generally involves one-time grants in which the donor invests to help you get started but doesn't intend to keep giving at the same level in future years. Think of this like start-up capital invested in a for-profit business.
Revenue-like funding ("buying" money) is income that could reliably be sustained or replaced as part of the organization's regular operating budget. It buys a service or project, in the same way that customer purchases sustain a for-profit business.
This simple-yet-powerful distinction puts a whole new lens on donations and internal accounting. It teaches funders to be more realistic about their goals, time frame, and gift amounts. It teaches funded organizations to budget more effectively and to better plan new growth initiatives.
For example, an organization I used to work for once received a one-time, nonrenewable grant to overhaul its marketing department. It was meant to be an investment that would pay for itself when the grant period was over because our improved systems would bring in new income. But the grant amount was small and the time-frame short, relative to the task at hand.
Basically, it was a typical "building" style grant, but with "buying" level resources. Looking back, it's not surprising that the results fell short of what we had envisioned. I dream of going back in time and giving everyone involved a copy of Overholser's article (although I don't think it had been written yet).
The article would have helped the funder to design the grant more realistically, and maybe we would have had more success in achieving our goals.
Fortunately, this knowledge is now available and it's starting to spread. The Nonprofit Finance Fund has developed a whole set of services around Overholser's notion of building versus buying, including a series of publications that specifically apply to the arts.
Thanks to the Doris Duke Foundation, arts organizations are leading the way when it comes to implementing these new ideas. Ten arts organizations were among the earliest beneficiaries of cutting-edge "change capital" grants aimed at building their organizations (and our knowledge) in a meaningful way. The lessons learned from these first grants were published just a few months ago.
Whether or not your funders are thinking in these terms yet, just learning the basic concepts in Overholser's article will give you a powerful new perspective on fundraising, income, and budgeting.
Up next: An optimistic look at the challenges and benefits of outcome-oriented philanthropy. And don't miss part one about improved assessment tools for donors.

About Carrie Blanding
Carrie Blanding is currently on a research sabbatical in which she gets to blissfully romp through the most interesting nonprofit literature every day. She is particularly fascinated by organizational sustainability, personal resilience, effective philanthropy, and management theory.
Previously, she has been executive director of the the San Francisco Contemporary Music Players, and co-founder/principal of Next Big Thing Children's Theatre. She earned her bachelor's degree, summa cum laude, in comparative literature from the University of California, Berkeley, and received the department award for academic achievement.
An avid singer, Carrie has at times been a member of the San Francisco Symphony Chorus, a jazz vocalist, and a singer-songwriter pouring her heart out at your neighborhood bar.
https://www.emergingsf.org/wp-content/uploads/2013/07/philanthropy2.jpg
375
300
Admin
http://www.emergingsf.org/wp-content/uploads/2019/10/EAP_Logo_2011_blue-pink-space-300x158.png
Admin
2013-07-09 13:09:13
2014-05-16 16:19:51
Learning the Difference between Building and Buying