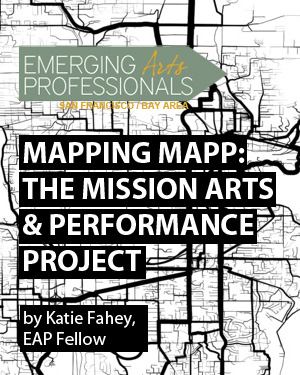 By Katie Fahey, EAP Fellow
Moving images were projecting on the horizontal boards of the backyard fence on Shotwell Street, sounds emanating from the speaker system running through conjoined power bars. Artists Sebastian Alvarez, Ralph Vazquez Concepcion, and Surabhi Saraf were rehearsing for the following night at Patio 308.
"What's happening here? It's 9:30," grumbled a neighbor. Informing the newcomer about the Mission Arts & Performance Project (MAPP) was an exercise in delicate diplomacy. Yes, there will be loud noises. No, it is not just a party. Yes, you are invited.
Easy to join; hard to explain
Participating in MAPP is easy. It is describing MAPP that often is not. To wit, one prominent funder in the San Francisco arts world once wrote me of it, "the event that I'm forgetting the name of — the free, open-house, neighborhood program."
A testament not to any lack of popularity of the bimonthly arts festival — which routinely attracts hundreds to its happenings — this speaks to, rather, the beauty of MAPP: its abstract nature and its unpredictability.
But if you had to describe it . . .

MAPP is a decentralized operation, open to artists, curators, and venues, established or not. Among those involved, experience levels vary significantly — from distinguished visual artists, accomplished musicians and published poets to first time arts presenters and "amateur" artists. A veritable acknowledgement of contemporary and community arts and culture in the Mission District, MAPP also offers a nonrestrictive, experimental platform for all participants — in particular a chance for artists to incubate a new work or test-run a new partnership.
For those desiring, a seasoned, supportive network is highly accessible. Need a venue? Someone has a garage/garden/living room for you. Need musicians? Each person in the room knows more than thirty of them. Never put on a performance event before? This friend has an amp you can borrow!
MAPP is the people who gather and performances that happen every other month. With an estimated average of fifteen venues per MAPP, and multiple performances in every space, there can be more than one hundred individuals engaged in aspects of planning and production each time.
Why get involved?
My playing a role in MAPP for the first time as an organizer this February was something that emerged quite organically. Through my position with the Red Poppy Art House, the inaugural MAPP venue, I had been aware of the program and attended many of the events. However, being excited by the prospect of working with talented artists and friends to contribute something uniquely our own was an important impetus.
No participant in the MAPP receives financial compensation. In fact, MAPP runs with zero funding whatsoever. At every location entry is free. Fantasies about how the pieces from Patio 308 would look projected on a much larger surface like the Great Wall in downtown Oakland might have to wait.
Unfolding the MAPP

On the night of the event of course I wondered, "Will anyone come?" In part this question was founded. The map for the MAPP (pun intended) provided locations for fifteen venues and ours was a distance from some of the others. The home of our friends, Jon and Ralph, we marked with shiny lettering at the door, and offered free sangria to visitors.
In the end, plenty of people came, saw, and were even moved by the video and performances. Veteran MAPPers came to check out the new addition, Mission Local readers who had seen the piece on the festival stopped by, and other friendly neighbors curiously wandered over. I spoke with a Japanese tourist about the digitally-manipulated footage being shown by artist Ralph Vazquez — taken, incidentally, from a recent trip of his own to Tokyo.
With the only glitch of the evening coming from the overloaded outlets providing power for the speakers and old-school fans that were part of Spin 4, the performance by Sebastian Alvarez and Surabhi Saraf, we mused post-event about the energy input and output of the evening. On the subject of their performance featuring large, colorful, fluid images projected live and accompanied by soft, murmuring vocals and the dissonant chopping of the fans, it was said modestly, "We were just trying to understand what we were doing."
I believe that other participants would agree that the goal is not to gain name recognition or even an elevator speech for the MAPP – though, of course, these tools might prove useful when conveying to prudish neighbors its value and purpose. More important is to make the event come alive with the highest level of vitality possible, and to create awareness so others might be able to replicate it in their own neighborhoods, here or in other cities.
http://vimeo.com/38195782
To get involved in MAPP, contact Rafael Sarria (rafael at redpoppyarthouse dot org), Georege Brais (georgebrais at gmail dot com), Jorge Molina (415.240.9125), or David Kubrin (415.824.8566). Or join the Facebook group.
Image: Ewedistrict
https://www.emergingsf.org/wp-content/uploads/2012/03/mapp5.jpg
375
300
Admin
http://www.emergingsf.org/wp-content/uploads/2019/10/EAP_Logo_2011_blue-pink-space-300x158.png
Admin
2012-03-16 22:16:46
2014-05-16 16:49:35
Mapping MAPP: The Mission Arts Performance Project