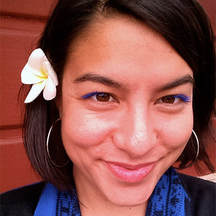 Cristina Ibarra
Events Manager at the Yerba Buena Gardens Festival
Bio
Cristina Ibarra is Events Manager at the Yerba Buena Gardens Festival in San Francisco. She specializes in bringing art experiences to diverse populations and sparking human connection through culture. Cristina has worked with various arts organizations, including ArtSpan, the Red Poppy Art House, MAPP (Mission Arts Performance Project), and Oakland-based LATE NITE ART. She is a member of APAP's Emerging Leadership Institute, Women of Color in the Arts (WOCA), and Women's Audio Mission (WAM). Cristina is an advisory board member for Emerging Arts Professionals SF/Bay Area, and is committed to manifesting equity in arts leadership. In her spare time (yeah right!), she enjoys gardening, performing with local musicians, and teaching Cuban-style salsa.
Fellowship Bio & Info (Cohort V)
Former Program Manager, Education & Community Engagement, ArtSpan, San Francisco, CA
Cristina Ibarra wants to rock your world. She knows the arts are a great way to do this and has dedicated the last five years to empowering artists and youth to use their talents and creativity to inspire us all. She's an enabler. She's an administrator. She's an artist. She's a facilitator. Whether in the space between a tango embrace or a ukelele chord, behind an office desk or in front of an audience, Cristina's mission is to help people connect with themselves, the world, and others around them through the sublime experience of art.
Most recently Programs Manager at ArtSpan, Cristina has worked with various arts non-profits and organizations in San Francisco, including the Red Poppy Art House, Independent Arts & Media, Project Tango, and the SF Arts Providers Alliance. She currently participates as a curator and organizer for MAPP (Mission Arts Performance Project), and performs with local music groups including the Hitsville Soul Sisters, Beautiful Earthquake, and others. In 2011, Cristina was an artist-in-residence at EDELO in Chiapas, Mexico, where she worked on rethinking alternative organizational models and began a forthcoming photography project. In her down time (yeah right!), Cristina enjoys dancing, traveling, and exploring the East Bay.
Interests: Business/Financial Operations | Marketing | Policy-making
Skills:  Public speaking/Facilitating | Community building | Finding a balance between visionary and strategic goals